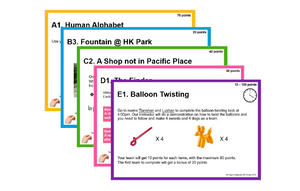 Description
Scavenger hunt is fun for team buildings and leisure events but planning for it can be very time consuming. Save your time and purchase our standard scavenger hunt package without any preparation.
What you need to do is to provide us your starting point and end point and we will do the rest for you. This package does not include any organizers or facilitators. Assign a few organizers on the event day for briefing, debriefing and score calculation is suggested.
Event Details
Duration: 2-3 hours
Checkpoints: 10-15 checkpoints / missions / games (for 2-3hours respectively)
No of teams: 2-8 teams
Delivery days: Within 14 days after providing all event details (additional charge will apply for express delivery, please contact us for a quote)
How does it work?
Provide us your starting point and endpoint and we will do all the planning for you. We will choose the checkpoints and missions for you. All materials will be delivered to you before your event.
What will you get?

- Briefing and Debriefing deck (powerpoint files)
- Score Sheet (powerpoint file)
- Game Rules
- Team Cards
- Clue Cards (click HERE for samples)
Enquiries
Click HERE to contact us